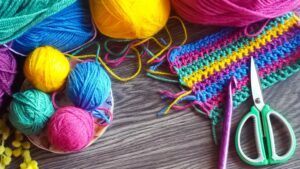 Here's a list of the best links I can come up with for some basic how-tos using wool. This is currently a work in process, as I either create or link to the best how-to's. If you have any special requests or know of some fabulous resources, please let me know, and I'll do my best to link up to them!
I love making art, and finding new ways to apply creativity to make something beautiful and useful. Whether using wool yarn, wool rovings or even wool felt, there are so many possibilities for us to choose.
Consider this a basic resource or toolbox of skills, to check up on basic techniques for all things wool – so you can let your creativity soar!
Please let me know if you would like further instructions or insights on ways to work with wool.
Knitting
Casting on
Garter stitch
Purl Stitch
Crocheting
Chain
Single Crochet
Felt Making
Laying out
Felting
Fulling techniques
Hand-Sewing with Felt
Blanket stitch
Spinning
Using a wheel
Using a hand-held bobbin